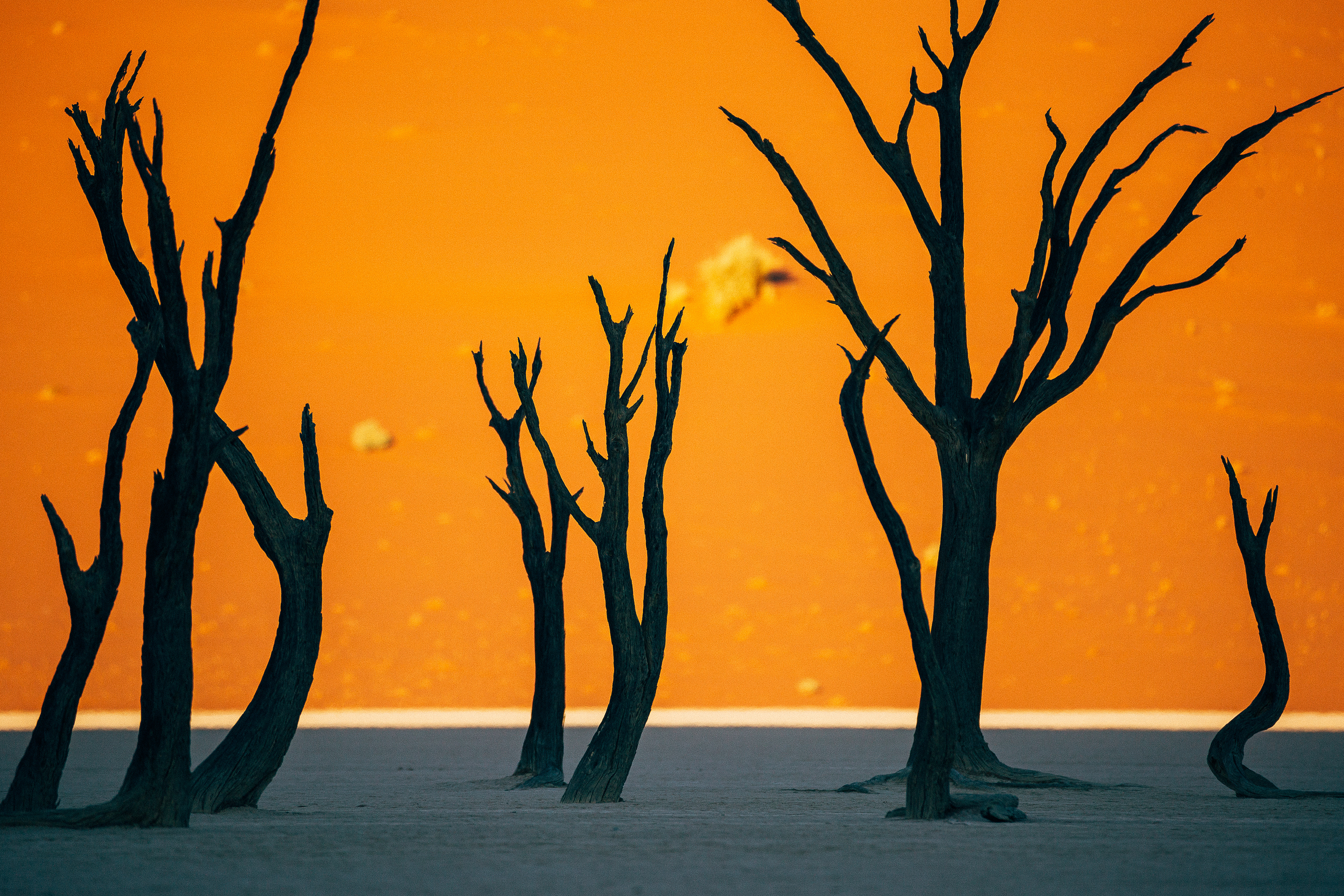 Questo scatto rappresenta in un certo senso l'apoteosi della mio sogno di diventare un fotografo di viaggio.
Se siete appassionati di fotografia, è probabile che, nel vedere questa immagine, abbiate provato un senso di deja-vu.
Inutile nasconderlo, si tratta di un omaggio alla
leggendaria immagine
scattata da Frans Lenting per National Geographic nel deserto del Namib.
Quando sono partito per la Namibia, nell'Agosto 2017, avevo quel meraviglioso scatto stampato in mente e sognando come sarebbe stato camminare in quel surreale paesaggio.
Per giungere al Dead Vlei in tempo, io e Francesca siamo partiti in piena notte dal Sossusvlei Lodge, situato al cancello d'ingresso del Namib Naukluft Park. Superata la strada asfaltata, dopo circa un'ora il percorso procede nel pieno deserto: guidare off-road sulle alte dune di sabbia, durante il crepuscolo, rimane di per sé una delle esperienze più memorabili della mia vita.
Giunti sul posto, ho provato la netta sensazione di entrare a passi incerti in un quadro di Dalì.
Poco tempo per pensare, il crepuscolo ormai stava lasciando spazio alle prime luci dell'alba.
Dopo aver scattato innumerevoli immagini tra i morti alberi di acacia, ho montato un
SIGMA 150-600mm
ed ho deciso di concentrarmi sul mio personale tributo a Frans Lenting. Ho individuato il gruppo di alberi immortalati nella famosa immagine, infine ho deciso di dare il mio contributo personale alla composizione. 

Potendo contare sulla straordinaria lunghezza focale di 600mm, la mia idea era quella di ricreare la scena con più protagonisti. Ho quindi sfruttato la compressione data dallo zoom ed ho incluso nell'inquadratura 3 alberi in più rispetto allo scatto di Lenting, mantenendo tuttavia le proporzioni della foto originale. Ho poi optato per una ampia apertura, in modo da sfocare lo sfondo, ed ho infine atteso che le luci dell'alba scendessero fino ad illuminare una piccola porzione di suolo, tra l'ombra e la duna. 
Il risultato è la mia "Danza dei Morti". 

Come ogni tributo che si rispetti, naturalmente non ha la pretesa di essere all'altezza dell'originale, che proprio in quanto tale non è comparabile.
Tuttavia, non diversamente da una buona cover musicale, credo che anche una fotografia scattata in luoghi iconici debba cercare di essere a suo modo unica e tentare di rappresentare l'intima visione del fotografo.
Su questa Terra tutti i luoghi ormai sono già stati scoperti e fotografati, ma questa non sarà mai una buona scusa per non omaggiarli e tentare di renderli propri.
Di seguito qualche altro scatto dallo stesso shooting
This shot represents in a sense the apotheosis of my dream of becoming a travel photographer.
If you're a photography enthusiast, chances are you've experienced a sense of deja vu upon seeing this photograph.
Needless to hide it, it is my tribute to the
legendary image
taken by Frans Lenting for National Geographic in Namib desert.
When I left for Namibia in August 2017, I had that wonderful and surreal shot in mind, dreaming what it would be like to walk in that surreal landscape.
To reach the Dead Vlei in time, Francesca and I set off in the middle of the night from Sossusvlei Lodge, located at the Namib Naukluft Park entrance gate. After the paved road, after about an hour, the route proceeds in the middle of the desert: driving on the sand dunes with the off-road vehicle, during the twilight, remains in itself one of the most memorable experiences of my life.
Once there, the landscape was extraordinary, and the sensation was that of stepping uncertainly into a painting by Dalì.
Little time to think, the twilight was now giving way to the first light of dawn.
After taking countless images among the dead acacia trees, I mounted a SIGMA 150-600mm and decided to focus on my personal tribute to Frans Lenting. I spotted the group of trees immortalized in the famous image, finally decided to make my own contribution to the composition.

Taking advantage of the extraordinary focal length of the 600mm, my idea was to recreate the scene with multiple protagonists. I then took advantage of the compression given by the zoom and included 3 more trees in the frame than in the Lenting shot, while maintaining the proportions of the original photo. I then opted for a wide aperture, in order to blur the background, and I finally waited for the lights of dawn to go down to illuminate a small portion of the ground, between the shadow and the dune.
The result is my "The Dance of the dead".

Like any self-respecting tribute, it naturally does not claim to be worthy of the original, which is not comparable precisely because it is original.
However, not unlike a good music cover, I believe that even a photograph taken in iconic places should try to be unique and attempt to represent the photographer's vision.
All places on this earth have already been discovered and photographed, but this will never be a good excuse not to make them your own.